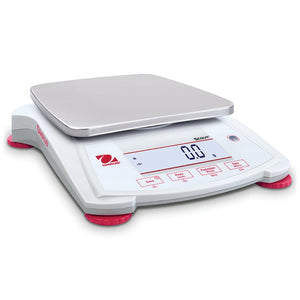 Ohaus® Scout SPX1202 Scale, 1200 x 0.01 grams
Product Code #SPX1202
Ideal for laboratory and industrial applications, the OHAUS Scout comes in a slim, stackable design with large backlit LCD. Features include superior overload protection, multiple weighing units and application modes. Geared for high performance in your facility with fast stabilization time and high resolution weighing results, these portable balances set a new standard in laboratory and industrial weighing.

Standard Features Include: -Bright Backlit LCD & 4 Button Control Enable Efficient Operation and Ease of Use Combined with a simplified 4 button operation, the Scout's large backlit display increases readability in low light working conditions, and is easier to view from a distance.
-Bolstered by Superior Overload Protection and Impact-Resistant Pan Support Integrated superior overload protection and impact-resistant pan support safeguard against shock and overloading the balance in rugged and demanding environments.
-Better Performance and Higher Capacities Widen the Range of Weighing Applications Stabilization time as fast as 1 sec and advanced weighing technology, lead toimproved productivity in your facility. Increased capacity unlocks a widerrange of weighing applications.

Other Standard Features and Equipment: Transportation lock, stainless steel pan, menu & calibration lockout switch, slip-resistant and adjustable feet, leveling bubble, mechanical and software overload/underload protection, stability indicator, auto tare, low battery indicator, auto shut-off, user selectable printing options, user selectable communication settings.
Scout SPX Model
SPX222
SPX421
SPX422
SPX622
SPX621
SPX1202
SPX2201
SPX2202
SPX6201
Capacity (grams)

200

400

400

600

600

1200

2200

2200

6200

Readability (grams)

0.01

0.10

0.01

0.10

0.01

0.01

0.10

0.01

0.10

Weighing Modes

g, kg, oz, ct, oz t, dwt, lb

Pan Size (inches)

120 mm Diameter

170 x 140 mm;

Tare Range

To capacity by subtraction

Operating Temp.

10 to 40°C

Display

LCD 0.78 cm high

Power Requirements

120V AC adapter (supplied) or 4 AA batteries (not included)

Net Weight (grams)

1000

1000

1000

1000

1000

1000

1000

1000

1000
---
We Also Recommend