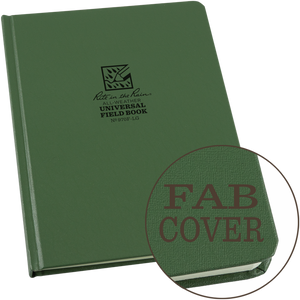 Rite-in-the-Rain - #970F-LG Large Bound Book, Universal Pattern, Green
All-weather paper. Yellow farbrikoid cover. 80 sheets (160) pages (perforated, 6-3/4" x 8-3/4".  Universal Pattern.
Green cover with green pages.
The cover, the paper, the sewn-in pages, even the glue is designed to survive the elements. This is a Hard Bound Field book with Fabrikoid cover material (waterproof fabric-wrapped, rigid cover stock, that does not saturate when submerged).
---
We Also Recommend